Crystal Lake Central's Jonathan Tegel easily cleared the hurdles with his 6-foot-4 frame to win the 110-yard high and 300 intermediate hurdles on Thursday at the McHenry County track meet.
Tegel looked like the 2021 version of himself, who won the Fox Valley Conference and Class 3A sectional titles in both races. He even beat his previous record of 300m by one second.
No one watching would have guessed that Tegel was fresh from surgery to repair his right ACL and only a month ago was cleared to race. He won the 110 by 0.34 seconds over teammate Gavin Wang and took the 300 by 0.79 seconds over Crystal Lake South's Caleb Ramirez.
"My 110s felt like I could do better, but my 300s gave me a [personal record], and it was pretty good," Tegel said. "It looks 100% now. I still have to regain my strength. I still have a lot of work to do. »
Tegel, a junior, was injured in October while playing for the Central football team. Fortunately, he had just enough time to get back on track.
The Tigers won the tag team title with 114 points, Cary-Grove was second with 82. It would have been much closer without Tegel's 20 points.
"During the indoor season, he really didn't run at all," Tigers coach Brian Seaver said. "He gained confidence. He has a lot of courage. He is a very good competitor. He is good for coaching.
The warriors bring him home: Huntley's boys' and girls' teams are generally the favorites with their talent and depth, but the Red Raiders did not compete giving the others a shot at the title. Central took advantage of the men's competition, and McHenry won the Women's Tag Team Championship.
The Warriors were strong in the sprints, winning the 4×100 relay with Angelina Bakewell, Bryanna Kelley, Molara Fashola and Kelly Huerta. Alyssa Moore and Peyton Stinger went 1-2 in the 800 and Moore came back with a second in the 1,600. McHenry finished with 128 points, eight ahead of second-placed Prairie Ridge.
"We've all improved so much individually," said Bakewell, a junior who contributed with a second place finish in the 300 hurdles and third in the long jump. "We have all been on the track for so long together and have this bond and we congratulate each other every day on how we have improved individually. Putting it together and seeing how it turns out is really amazing. Our passion for this sport and our mutual encouragement, we always support each other.
Lydon made it 4 for 4: Prairie Ridge junior Rylee Lydon won four individual events – high and long jump, 400 and 200 meters – for 40 points for Wolves. Lydon broke the high jump record held by Huntey's Omo Tseumah (5-8 in 2013) with a leap of 5-8 3/4. She was close to the records in her other three events.
"She had a great evening. She came out swinging in her jumps," Wolves coach Sarah Long said. "She was really motivated. She made some good long jump attempts. We have worked on its consistency in this regard with the Board of Directors. It is going much better.
"Her 400, she mentioned that she's proud of her consistency so far this season, that's really good. Last season she continued to drastically cut her time, but there was no consistency. Now we see that consistency with running a 57-year-old midfielder if she's in the right headspace.
Lydon was close to his second attempt at 5-8 3/4, which was a personal best height, then landed his third jump.
"I tried to speed up a bit and it was just, 'Go! Go! Go!'" she said. "I don't think a lot when I jump, it's just kind of muscle memory. He accelerated this speed to cross the greatest heights.
Lydon is the reigning Class 3A state champion in the 400m, although she will experiment next week in the 300m hurdles.
"I wanted to be around 57 [seconds]and i ended up being alone [in the 400]but I'm certainly not too angry, being alone by myself [out in front]", Lydon said. "I just try to stay consistent.
Petko wins two: Leading the CG men's team with a pair of county wins was senior Zach Petko, who won the shot put and the discus.
Petko's 154-2 discus throw came on his first attempt. His best shot put (52-1) came on his last shot. The 20mph gusts of wind made the drive a bit tricky.
"On discus, the wind was affecting the flight of my throw," Petko said. "It's good to win, but I can do better. With the tailwind, my release was all messed up, and the disc wasn't flying properly. With the tailwind it will really kill you. It looks like it's going well, and it's just falling out of the blue.
"In the shot put, I kept throwing it to the left side of the sector. I had two very good shots, it was enough to win.
Climbing : McHenry's second student, Zach Galvicius, took a huge personal leap in his performance, winning the pole vault at 14-6. His previous record was 13-8.
Galvicius went way over the bar at 14-6, then leaped from the pit and screamed. Two RB workers had to hold the pole vault bar in place while the jumpers made their attempts because the wind kept blowing it.
"I like the tailwind a bit, I can go faster," Galvicius said.
Galvicius missed qualifying for state as a rookie by one inch. With a new shot of confidence on Thursday, he is ready for the rest of the season.
"I'm so excited [for the season]," he said.
Stunned: Woodstock North sophomore Bella Borta not only set school records in both hurdle races, she also won two county competition titles.
Borta won the top 100 in 17.26, then came back and won the bottom 300 in 50.39, winning every race by decent margins. Thunder coach Cas Creighton believes Borta is the first women's track and field champion in school history.
"It was very nervous. It was amazing to think that I could go so fast," Borta said. "I didn't think I could do that. I constantly lost time, (the season) was good.
"[School records] were my goal because of the kindness [the weather] been. I didn't think I had it for both. I was super close to the 100 record. When I got the 300 record, I was more surprised. I was far from that one.
Creighton said Borta, who also swims, was more ready for this season since the offseason was more normal.
"I'm happy for Bella and extremely proud of her," Creighton said. "She's been smart with her training and she's stayed healthy. Last year it was a short season and the sports overlapped, so we didn't have enough time to get things done. She has the right mindset and athleticism to take it all the way.
The record holders meet: Johnsburg High School Sports Hall of Famer Cheri (Kofler) Ertl held three school records for 40 years, two of which recently fell to Skyhawks sophomore Caitlyn Casella, who won the 100 in the county meeting on Thursday.
Casella broke Kofler's records in the 100 and 200, although Kofler's long jump mark of 17-5 3/4 still stands. Kofler was invited back to Johnsburg for a meeting on Tuesday and met with Casella.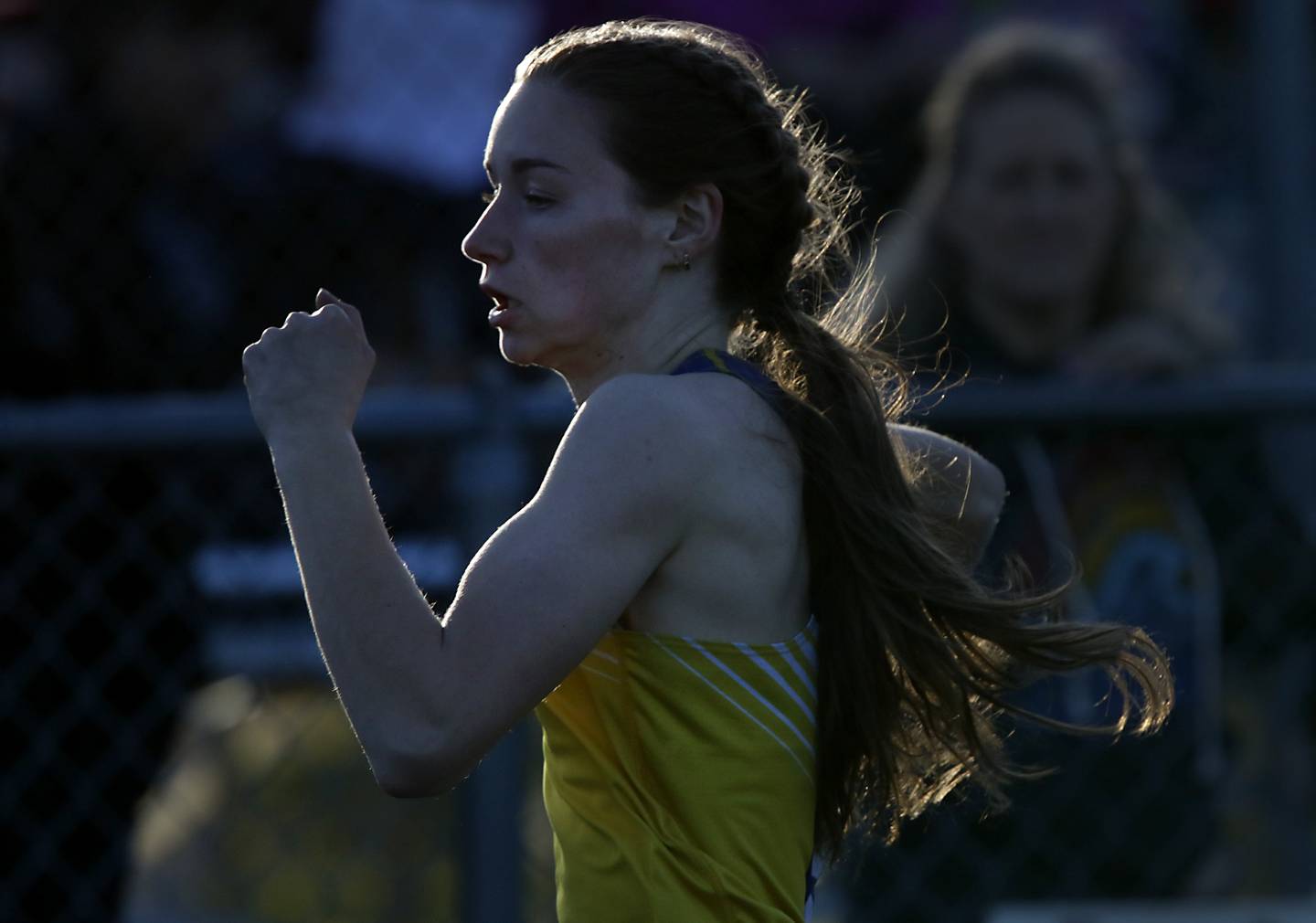 "Cheri was the only woman in Johnsburg history to hold those records," Skyhawks coach Tom Weaver said. "We decorated a relay with Cheri's records, then another with Caitlyn's, and Cheri passed the baton to Caitlyn, the fastest former girl to the fastest new girl in the history of the school."
Casella won the 100m in 12.86 on Thursday, 0.23 ahead of McHenry's Huerta.
Family evening: Richmond-Burton boys track and field coach John Osmanski thoroughly enjoyed his 49th birthday Thursday as host of the meet.
The Rockets won titles with Landon Jacoby, Dan Kalinowski, Jack Martens and Sean Rockwell in the 4×100, and with Joe Miller winning the 400 title. But Osmanski also got to see his son Zach, a senior, and daughter Madeline, a second, medal with Jacobs teams.
Adam Lakeman, Matt Andreano, Mitch Ruffin and Zach Osmanski won the 4×800 relay. Madeline Osmanski then took fifth place in the 800m.
Happy birthday, Coach Osmanski, head coach of Richmond-Burton and today's county host. His daughter, Madeline, who runs for Jacobs, sewed him a half RB, half Jacobs shirt so he could cheer on both his teams! pic.twitter.com/1qzP8dPIlV

— Jacobs Cross Country (@HDJacobsXC) April 21, 2022
"It was a fabulous evening," said John Osmanski. "The county meet, when you host it, is chaotic, but [R-B girls coach] Ryan Carlson, the meet manager, was fantastic. Everything went off without a hitch. Watching Zach anchor was awesome, and seeing Madeline, recovering from an injury, just chasing her in the 800, was awesome.
Osmanski recently received a text from his wife, Angela, telling him that Madeline needed an RB shirt. She surprised him with a half RB, half Jacobs shirt.
"I just thought it was something for a themed day where she was going to dress like me," Osmanski said. "I had no idea."
The program has been good for Osmanski, who has been able to see most of his children's races this season. But Thursday, in a grand setting, all together, was very special.