The Meme-stock crowd was crushed, sthe hares collapsed 69% in four days. Their bThe illionary hedge fund hero, who might have known about the unpaid bills, got out in time.
By Wolf Richter for WOLF STREET.
The $675 million 30-year senior unsecured bond issued by Bed Bath & Beyond in 2014, which matures in 2044, with a coupon interest of 5.165%, has crashed to a new low close of 15.8 cents on the dollar. today with some trades below 15 cents, after plunging all last week on the stock meme-inspired dead cat bounce.
This would represent a yield to maturity of 33%, assuming the company pays interest for the full term of the bond and does not default, and at maturity redeems the bond. But with this yield, the bond market is signaling that a default and bankruptcy filing are imminent, with a massive discount for debenture holders (chart from FINRA/Morningstar):
On Friday, Bloomberg reported that a supplier survey, conducted by ratings and consultancy firm Pulse Ratings, found that Bed Bath & Beyond was up to 90 days behind on its bills.
All respondents had past due accounts receivable with Bed Bath & Beyond, and some said that more than half of their accounts receivable with Bed Bath & Beyond were past due. Suppliers also complained that "management lacks guidance on its plans to catch up on outstanding invoices," according to Bloomberg, citing the survey it had seen.
Also according to Bloomberg, based on its sources, several companies that provide credit insurance to sellers have revoked Bed Bath & Beyond coverage.
Not being able to pay vendors is nearing the end of the game. And the bond market knows this far better than stock market memes.
The $225 million 20-year senior unsecured note that Bed Bath & Beyond issued in 2014, due 2034, with a coupon interest of 4.915%, crashed to a new low of 16 cents on the dollars today.
That would be a 34% yield, assuming the company even pays interest for the life of the bond, which the bond market views as highly unlikely (chart from FINRA/Morningstar)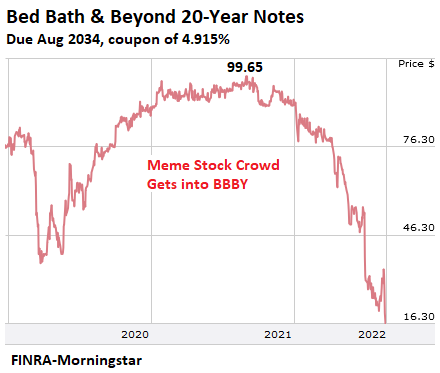 The $300 million 10-year senior unsecured notes that Bed Bath & Beyond issued in 2014, due 2024, with a coupon interest of 3.749%, slumped to a new low of 32.7 cents on the dollar today.
That's a yield to maturity of 75%, assuming these bonds will pay interest for two years and then be repaid at face value in August 2024. But the bond market is almost certain the company will default before August. 2024, and a bankruptcy court will give them high, tight haircuts (chart from FINRA/Morningstar)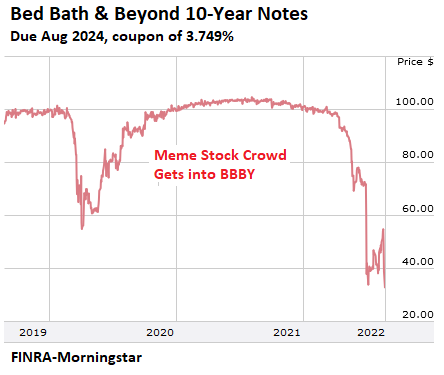 Likely buyers of these bonds are hedge funds and private equity firms that want a seat at the table during bankruptcy proceedings to get their piece of the pie while shareholders get ripped off.
This plunge in bond prices negates the boost bonds received from the very stock crowd when they inflated stocks to such an extent that it created hopes that the company could raise funds by issuing new shares at these inflated prices. But that didn't happen.
But from today's prices, we can see that the holders of these debentures are now factoring into their calculations a very high probability that they will have to fight in bankruptcy court.
Many other brick-and-mortar retailers have been liquidated in bankruptcy court in recent years, including Toys 'R' Us. Sears was cut into small pieces in bankruptcy court. Overleveraged, money-losing brick-and-mortar retailers are notoriously difficult to restructure in bankruptcy court, and most end up being liquidated.
Holders of unsecured bonds issued by retailers tend to get little or nothing in bankruptcy court. But shareholders are at the bottom of the capital structure, even lower than unsecured bondholders and other unsecured creditors, and tend to be wiped out.
And yet the bankruptcy filings have prompted the stock meme crowd to come up with shares of companies after they file for bankruptcy, hoping, I don't know, that at the very least they can sell this stuff to the biggest fool shares of memes at 10 times the price?
But selling this stuff is precisely what the meme stock crowd doesn't do, and so they get wiped out when the hedge fund billionaires among them – who know you don't have a profit until you Don't Throw This Stuff – Throw This Stuff, and the greedy knife catchers dropping into the crowd of meme stocks make it a very profitable trade for hedge fund billionaires.
That's what happened in the case of Bed Bath & Beyond when activist investor Ryan Cohen, five months after he promoted the shares and revealed that his company RC Ventures had taken a 9.8% stake in the company, then imposed some changes on the company, gave up his entire stake, causing the shares to crash again.
SEC filings show RC Ventures sold the shares on Aug. 16 and 17 at prices ranging from $18.68 to $29.21, taking a profit of $69 million, while stock traders who kept their shares or bought the falling knives were executed. on stretchers.
The Bloomberg report came out on Friday, and reports that Bed Bath & Beyond was behind on its bills had likely started circulating before then. Bonds began to tumble again on August 17. Chances are, Cohen knew the company was behind on its bills – that he knew it was nearing endgame and he had to get out while the getting was good.
Only even stock traders didn't know that. These people need to learn from Cohen that you don't make money off that shit unless you sell that shit when it's high.
From the August 17 intraday high of $30 per share through today's close – in four and a half trading days – the stock price is up 69% (data via YCharts):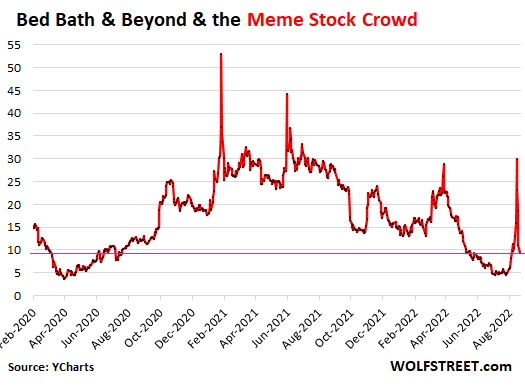 Ultimately, it's a classic story of a brick-and-mortar retailer with many large stores that have been overrun by e-commerce.
Bed Bath & Beyond has an e-commerce operation, like Sears and Toys 'R' Us had e-commerce operations, and customers are using it. But stores are expensive to operate, and they require a lot of inventory (money) and staff, and that took years.
Annual revenues have crashed 36% from the peak of 2017 to 2021, and 2021 has been the best year ever for retailers as consumers blew their pandemic dollars no matter what – but they stayed away from Bed Bath & Beyond: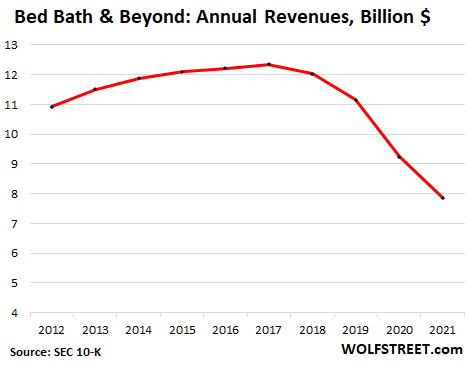 What's different is that meme stock traders and hedge funds got involved in the brick-and-mortar meltdown – see also GameStop – during the biggest stock market bubble ever, and they played this game with each other, mixing these actions back and forth. , promoting the shares on social media and then dumping them, while others believed their hype and bought the stuff and got cleaned up. The oldest game in town. And all along, the SEC has been reliably asleep.
Do you like to read WOLF STREET and want to support it? You use ad blockers – I completely understand why – but you want to support the site? You can donate. I greatly appreciate it. Click on the mug of beer and iced tea to find out how:

Would you like to be notified by e-mail when WOLF STREET publishes a new article? Register here.